About the Railway
The Puffing Billy Railway is a restored section of the narrow gauge (2'6") Upper Ferntree Gully to Gembrook railway line, which closed in the mid 1950s. The section Upper Ferntree Gully to Belgrave was converted to broad gauge (1600mm) and electrified. It now forms part of the Metro Trains network.
About the Route
The line from Belgrave to Gembrook about 24 km and takes about 2 hours each way. Most trains run from Belgrave to Lakeside (Emerald Lake Park), which is 13 km and takes about 1 hour each way.
Between Belgrave and Cockatoo, the line runs mostly through the hilly rainforest of the Dandenong Ranges. Between Cockatoo and Gemborook, the line opens up to rolling hills and farmland.
All services start at Belgrave, stopping at Menzies Creek and Emerald Township before arriving at Lakeside (Emerald Lake Park). Some trips continue on to Cockatoo and Gembrook.
About the Trains
Most Puffing Billy trains are hauled by the original nA class locomotives, which provided the motive power for much of the line's commercial life. The railway also has an operational G class Garratt articulated steam locomotive, and a number of other operational steam and diesel locmotives.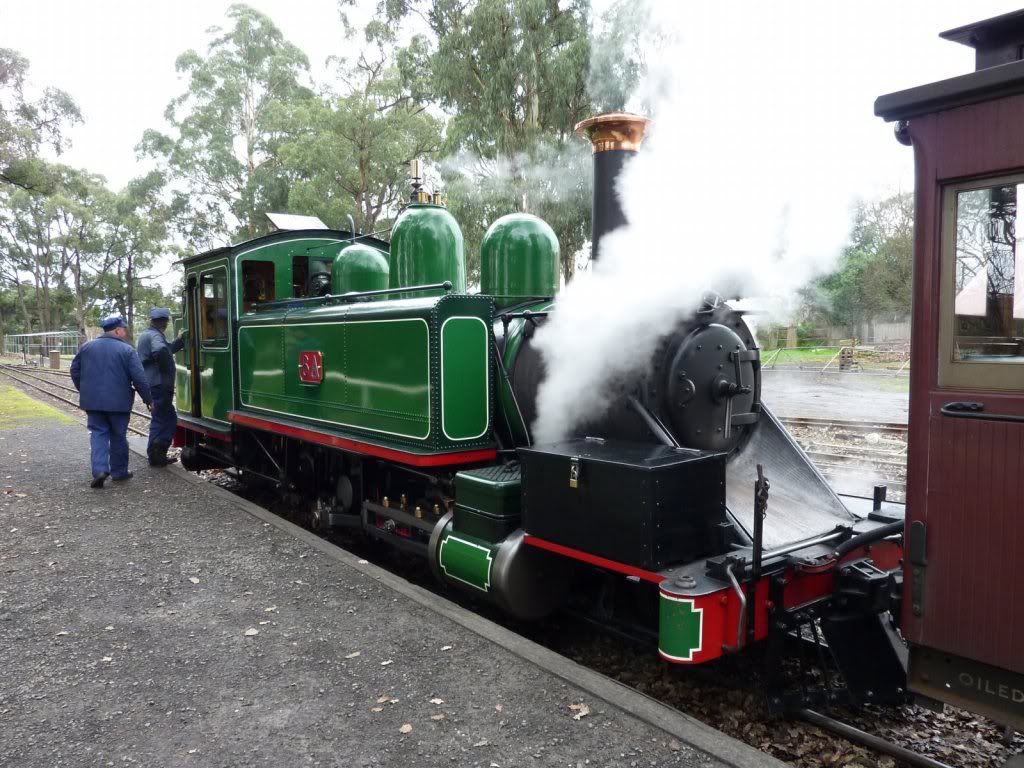 Most passenger carriages are NBH and NQR open air cars with longitudinal wooden seating. Each train has a limited number of enclosed seating in the first and last cars (mostly with leather seating). The trains do not have on board toilets.
The NAL cars used on Lunch and the Dinner trains are fully enclosed with padded seating at tables.
When do the Trains Run and How Often?
Trains run every day except Christmas Day. Depending on the time of year, as few as 3 or as many as 6 return trains run each day from Belgrave. Generally, the first train of the day will leave Belgrave at 10:30, with the last leaving Belgrave at 14:30.
Services to Gembrook generally only run on Weekends, school holidays and public holidays. Click here for timetable details .
Can I Get There by Public Transport?
Yes! It's actually easier to get there by train, as there is very limited parking at Belgrave station.
Puffing Billy's Belgrave station is only a couple of minutes walk from the Metro Trains Belgrave station, along a dedicated footpath. When you arrive at Metro's Belgrave station, walk past the front of the train and through the gate at the end of the platform. follow the footpath under the road bridge and down the hill to the Puffing Billy station.
Trains run from Flinders St station in Melbourne to Belgrave every 20 to 30 minutes, with a journey time of around 60 minutes. A full timetable is available by clicking here .